Begin A new Creative Journey today
Discover your creativity with our gorgeous craft boxes. Stunning designs, quality materials, perfect for beginners and up. Choose your first box and get everything you need delivered to your door.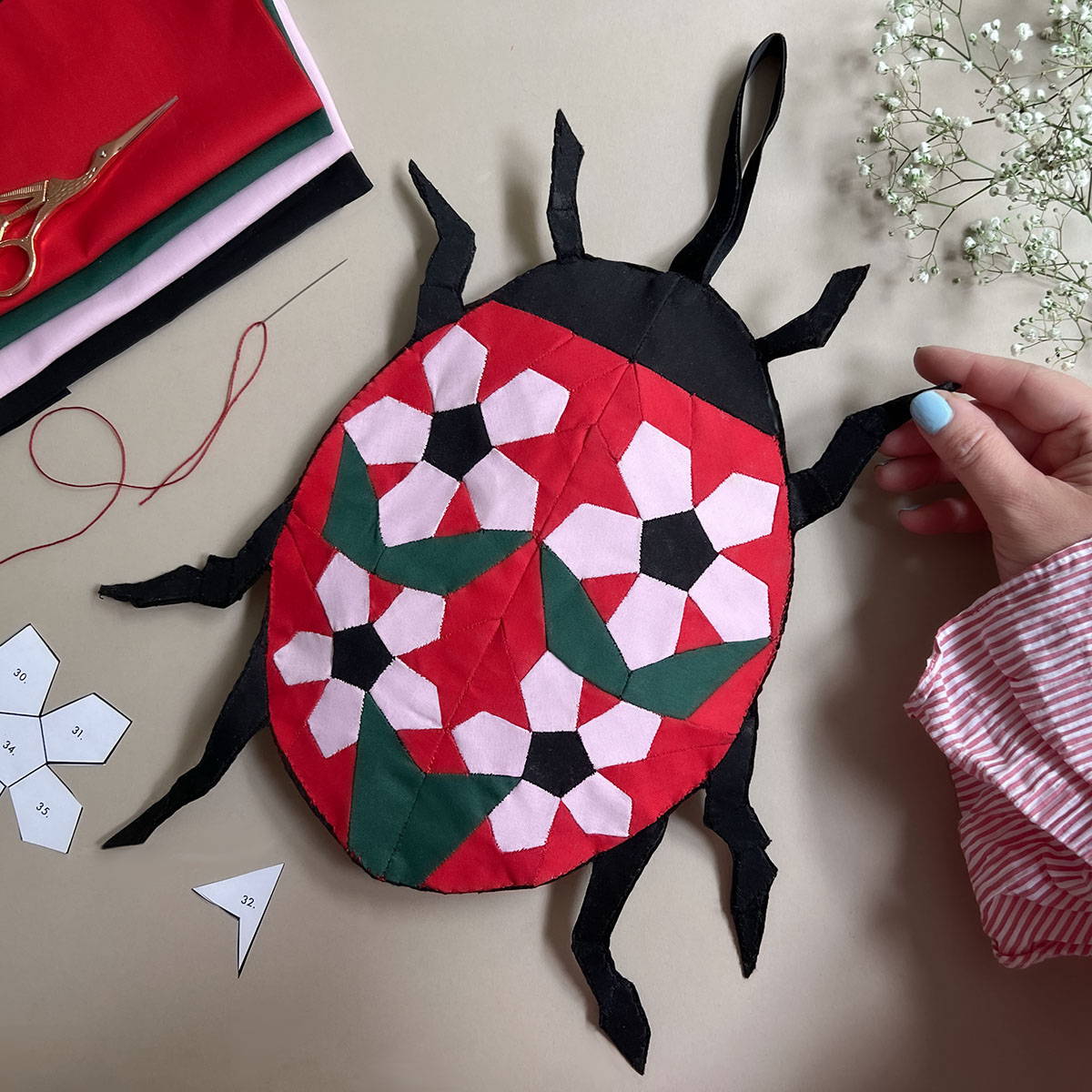 How Our Subscription Works
Join our Creative Community in a few easy steps
Choose from a number of projects to begin your creative journey or give the perfect gift.
Choose a monthly or a bi-monthly delivery. Pause, Skip or Cancel Anytime!

Discover your Creativity!
Sit back and relax, your MakeBox is on it's way to your doorstep.
A new box every month chosen by you.

Full flexibility to swap, skip or pause your subscription

An exclusive loyalty points programe only available to subscribers.

All for just £25.99 per box!
THIS MONTH'S EXCLUSIVE OFFER
Worth £40.99* for only £25.99!
ladybird: English paper piecing
This lovely folk-inspired Ladybird features a unique floral-backed design using the modern English Paper Piecing technique. It can be constructed using the materials provided in the box to create a beautiful stuffed wall hanging, or alternatively, you can apply the design as an applique to an array of your own homeware or clothing for example a cushion, tote bag or jacket.
Ladybirds are symbols of good luck, protection, and healing, ideal to have around the home. English Paper Piecing is a simple method of quilting that uses paper or card interlocking shapes covered in fabric, this style of quilting dates to the 1700s. Recently, this method has become highly popular in using modern graphic designs of plants and animals, this box contains a unique pattern of the reflective design of a ladybird, which goes together a little like a jigsaw puzzle.
The finished ladybird measures 35cm/14-inch height by 30cm/ 12 inches wide
*NEW SUBSCRIBER EXCLUSIVE FREE GIFT WORTH £15: You will receive the beautiful Paper Making Essentials pack and ladybird pegs (see below), get FREE UK SHIPPING and a save compared to the shop price (£26.99).
Worth a combined £40.99 for only £25.99!
your

free gifts!
paper making & ladybird pegs worth £14
GIFT1: This exquisite and essential paper-making set allows you to transform unwanted papers (perfect for this time of year!) into luxurious craft projects through the art of paper making.

Included are the 'Paper Making Masterclass' 88-page e-book (delivered with your subscription confirmation email) containing 9 amazing projects and an introduction to the basics of making your own paper and the paper-making wooden frame (delivered with your box which enables you to make the paper.
With so much paper waste from wrapping, cards and envelopes ending up in landfill, this kit allows you to use materials you would otherwise trash and recycle them into premium papers. Guided by the Paper Making Book you will learn some expert skills in making, colouring and converting your paper into beautiful makes.
You will learn these techniques: The art of Paper Making / Book Binding / Wax Sealing / Calligraphy. Projects: Making your own notebooks / Bookmarks / Paper Wreath / Invitations and Letters / Envelopes / Place Names
GIFT2: A pack of 20 cute ladybird pegs that make a handy craft or stationary stash addition.
Take a look at some of our previous boxes, we have something for everyone. Start your subscription with a choice of box that suits you.

Are the boxes suitable for beginners?

When will I receive my first box?
Absolutley! MakeBox is about discovering new creative skills. We provide full photographic how to instructions in each box. We als have video tutorials and an amazing online community of fellow makers at your disposal who can help with any question 😀
Yes! You are in complete control of your subscription. Whether that is to skip a month, swap a box or cancel. Here's how it works:
Swaps
To make any changes to your next box, you will need to do this before the cut off date which is the 10th of the month. For example, if you would like to swap the Box of the Month that you are due to receive in March, you would need to make this change before February 10th. If you are a monthly subscriber, you can make this change on your account page. If you are a pre pay or a gift subscriber, you would need to email info@makebox.co before the 10th and we will make these changes for you.
Please note, if you are swapping to a box that is a higher price than your subscription, you will be charged the difference in price when your subscription renews.
If you have bought a gift subscription and the recipient wishes to choose their boxes even though your name and email address is on the order, that is absolutely fine. Just ask them to email us on info@makebo.co with all the details of the subscription and we can make the changes. Please forward this information page to them so that they know the details surrounding their subscription.
Skip a Box
To make any changes to your next box, you will need to do this before the cut off date which is the 10th of the month. For example, if you would like to swap the Box of the Month that you are due to receive in March, you would need to make this change before

Cancel
You can easily cancel your subscription after the term you have paid for is complete. This can be done in your account area.
*All changes must be made on the 10th of each month before the renewal occurs. Renewed subscriptions cannot be edited in line with our terms of sale.
Our latest box releases are always kept as a surprise until the 1st of each month. We like to keep you guessing on the next craft you will be able to try!
We announce all of our latest releases on email to newsletter subscribers, on our social media channels and in your renewal reminder emails. You will have ample time to decide if you would like to keep this box or make a change. Make sure to sign up to the newsletter and follow us on social media to be the first to know.
Delivery schedules:
BOX 1:
When you check out, you will choose a box to begin your subscription. Each box displays an expected delivery timeline.
- 'Shipping now' - This box will be dispatched within 3 working days.
- 'Shipping soon' - This box will be dispatched within 10 working days.
- 'Shipping (month)' This box will be dispatched in the first week of the month outlined. This is usually our latest 'Box of the Month'.
BOX 2:
All of the boxes following your initial choice at sign up are set by default to the 'Box of the Month'.
Example Monthly subscription:

Box 1: Sign up 15th January. 'Shipping now' box selected - dispatched within 3 working days
Box 2: Renewal on 11th February. Box by default will be 'Shipping March' (unless swapped).
*Please note in the above example, if you choose an immediate shipment for Box 1 and choose to stay with the default Box 2, you will have a 6 week gap between boxes.
All future boxes will be set to the 'Box of the Month' by default.
You are charged immediately when you subscribe. Renewals then occur on the 11th of the following month (irrespective of your sign up date). You are always sent a renewal reminder 3 days prior to any renewal to give you a chance to skip, swap or cancel the renewal.
Example:
Monthly subscription sign up on the 15th of January. Renews on the 11th of February
3 Month subscription sign up on the 15th of January. Renews on the 11th of April.
All Gift subscriptions are non-renewing.